We are pleased to represent a wood carver, Tomonobu Asamura, from Nara, Japan at the International Folk Art Market in Santa Fe, New Mexico from July 6th through 9th, 2023.
Tomonobu is a wood sculptor and works in the conservation and restoration of cultural assets such as Buddhist statues. He apprenticed with three master Buddhist carvers for 11 years and he became an independent sculptor since 2011. His designated day profession is actually a Buddhist sculptor/carver.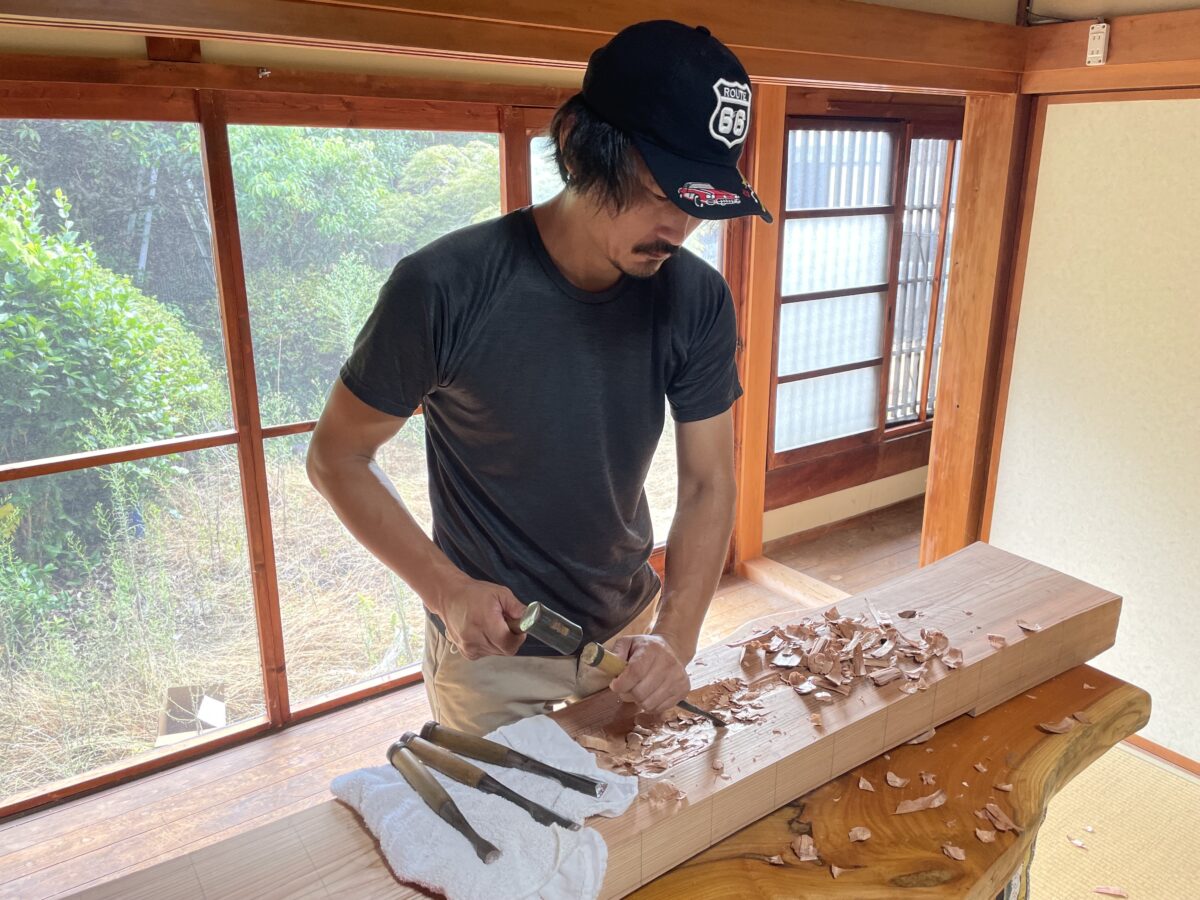 Because urushi/lacquering is used in some of this restoration work, he is familiar with its usage and function. There is reverence in his art for this old traditional method that he is now applying to his modern art pieces.
Besides carving the traditional pieces, he has traveled around Eurasia and Northern America from 2000-2002 on his bicycle. He views this as part of his expression of carving the ultimate largest piece, Earth. Tomonobu's work is inspired by having had these experiences not only from other countries but also from the Japan of 1,500 – 2,000 years ago.
Magatama, for example, are stone ornaments that were found in the ancient ruins of Japan. These are sometimes made of wood. Though the meaning of the shape may not be certain, it was believed to be a valuable accessory for this ancient society.
In Japan, Urushi (lacquer painted on wood) is also a medium that has been used for thousands of years. It can also be used in art. He is inspired by the strength and beauty of lacquer and combine ancient designs and urushi on wood. Keeping inspiration from these ancient cultures and natural materials in mind, he visits ancient historic sites to view artifacts, walk in the mountains and camp for several days. He consciously fosters his motivation to create in nature.
From 2010, he has been researching Shugendo, Yamabushi, and Japanese animism. He takes the historic routes practiced by Yamabushi in Mount Kongo, Mount Katsuragi, and Mount Kii for the current Yamabushi, scholars, and professors.
Other interesting work he does is recreating ancient musical instruments such as the Koto (harp) from the 2nd through 6th centuries.
In Japan, it is said that before Buddhism was introduced in the 6th century, Japan had its own unique gods based on nature worship. After Buddhism was introduced, Buddhism and Shintoism merged and Japan's unique religious view was formed. This view has been inherited to this day. However, since there are no historical books written before the 8th century in Japan, little is known about Japan's religious culture before Buddhism. In recent excavation surveys, ruins where rituals using water were performed have been uncovered and are attracting attention. It is believed that the koto, a Japanese harp, was used in these water-based rituals. It is recorded in mythology as a means of communicating with gods and is considered an important instrument. These ancient spiritual locations and the kotos they have found are being restored. These historic finds and the water-based rituals they represent serve as a link to Japan's past and current spiritual presence where we can see it threaded through local festivals and rituals.